We all want to gift our children with a world of things. From favourite toys to expensive schools, from high end gadgets to super bikes. The list would never end. But if I am asked to quote 5 things that I would want to gift my child with, what it would be ? The choices become tough and thoughtful. A question that every parent s mind should ponder with. May be we all should share our choices to choose the 5 best gifts for our children.
Gifts for children
1. Quality Time: The first thing I would want to gift my child with would be a lot of quality time. In an attempt to bestow everything, we deprive our children of the most important gift they deserve; Our quality time. So I would struggle, strive and sought time for my child.
2. High moral values: If I give time, I will surely be able to inculcate high moral values like love, companionship, honesty,integrity,kindness and humbleness. A man without moral values is like a ice cream without flavour.
3. Good Education: Education is the best legacy that you can gift your child with. Nothing compares to it. Education brings class, prosperity, confidence and identity to your child s life. It would remain with him all his life.
4. Good Health: For a healthy future one must have good mental and physical health. I would gift my child with good over all health by teaching him healthy lifestyle, healthy food and healthy thought. I would ensure that he eats a balanced diet and spends good time on out door sports.
5. Investment: There is not everything that money can buy. But nevertheless we need decent money to secure our children s future. Good education and good health is closely dependent upon my financial investments. With inflation rate breaking all records, it is high time for every responsible parent to invest in child investment plans like Children Education plans and Insurance plans. There are a plethora of plans for children to choose from. This webpage would help you to choose one that suits your needs. 1001 Gifts Activity by HDFC Life .
Plan now to have a worry free future both for you and your children.
This post is a part of the
1001 Gifts Activity by HDFC Life
in association with
BlogAdda
.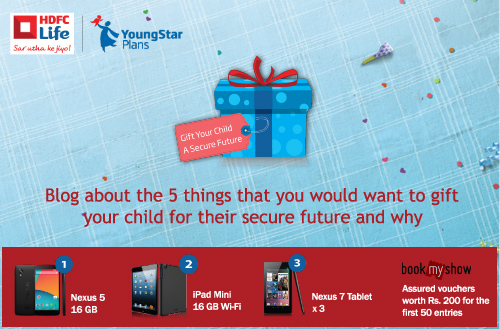 Image source: Google Images.